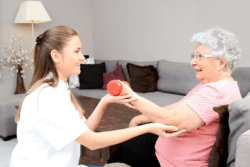 Physical health and fitness have an important role to play in a person's day-to-day life. One's physical impairment may lead to the inability to perform tasks and activities, resulting to reduced happiness and quality of life.
Our primary goal at L.A. Metropolitan Home Health is to help you achieve your best physical health in the quickest time possible. Whether the physical issues you are suffering from are due to old age or a result of injury or surgery, we are committed in helping you restore and improve flexibility, range of motion, balance, and strength in order for you to be able to move around without fear of falling or feeling pain.
Our highly skilled physical therapists are able to provide the following services:
Reduce risks of falling
Enhance range of motion
Joint mobility rehabilitation
Energy conservation and training management
Strength enhancement
Proper posture and positioning
Cardiovascular treatment
Pain reduction
Learn more about our physical therapy services by calling us at (562) 246-0770.